Trash and Try Again
Notes on Revision
by Lindsey Harding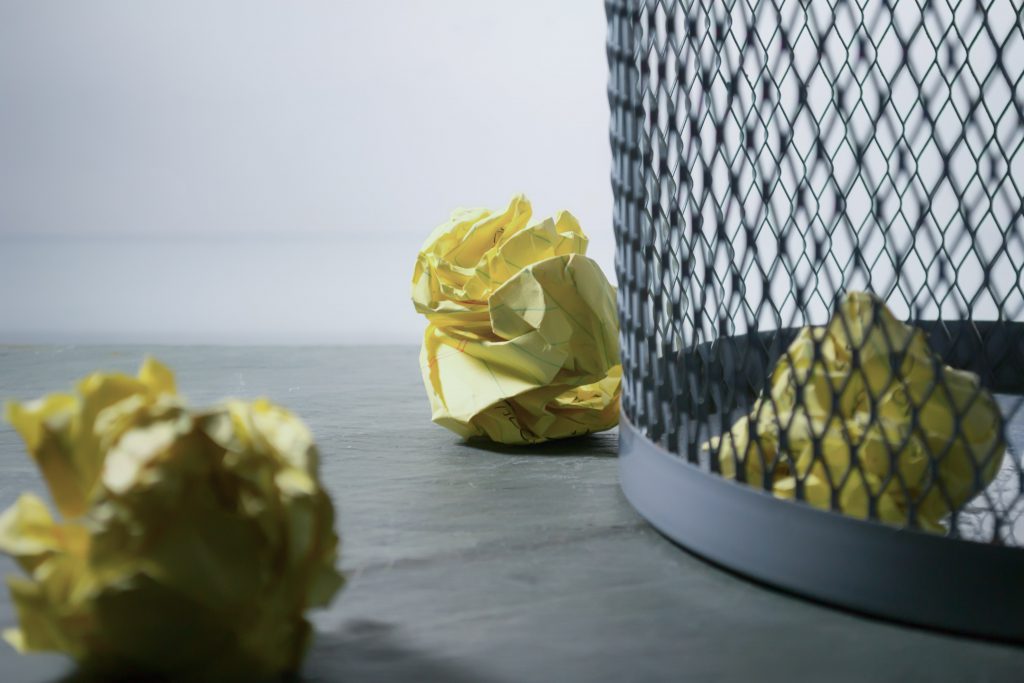 Photo by Steve Johnson on Unsplash
---
I learned the value of revision as re-seeing and re-writing the hard way in graduate school. I earned my MFA at Sewanee University's School of Letters, which meant for four summers, I participated in a rigorous summer camp for writers and book nerds, two classes each summer for six demanding weeks. I loved every minute of it. Well, except for one.
My first summer, I was taking a fiction workshop with the writer Ellen Slezak. In workshop one day, I received feedback on a short story that would eventually be my first online publication (in a journal that no longer exists). I was working on revising "Morning Routine" based on comments from Ellen and my peers when I lost the draft. Something happened with my computer, and it didn't save. I remember being really excited about how far the story had come, where I was headed with it. Then it was gone. The whole thing—poof. All those pages, all that time—gone.
I wanted to throw my computer through a window or wall. I wanted the time back that I had poured into it. Mostly, I wanted the words back. They were good! How would I be able to compose something so good again? 
I didn't destroy my computer. Instead, I started over. Once I got over the initial loss of that draft and sunk into what I know now as a "blank draft revision," I realized what I had written before wasn't all that good. It had a long way to go, in fact. And now, instead of latching onto all of the witty phrases and lovely lines I had composed previously, I was free to reimagine and rewrite. In this freedom, I found it easier to move beyond safe first choices, familiar imagery, and clever sentences. I had gotten all of those out of the way, and now I could enter into the storyscape again and figure out what the story needed to be the story it could be.
---
This experience taught me something about myself and something about revision.
First, I learned that I love revision. I do my best work in revision. Once I get past that hurdle of getting words down on a page, it's go time. That's when the fun, the magic happens. Thanks to this experience, I'm no longer afraid to cut mercilessly, to get back into a draft and tear it apart so that I can rebuild it better.
Second, I learned that revision is a three-dimensional process. You open a draft and the black words appear on a white screen, but really it shimmers as its own holodeck. As the writer, you can enter the draft, push here, pull there, connect and separate, trash and try again.
---
It took losing a draft for me to learn the value of revision—and I remain incredibly thankful for that lesson, however devastating the experience was at the time. In a later summer, Ellen would ask us to highlight revisions from first draft to final draft, and, proudly, I submitted a story crawling with yellow highlighting. Easily 80–90% of the story had changed over the course of the semester. Now, that's what I aim for with every writing project—substantive change in revision. In my published work, I can spot kernels and nuggets of initial drafts, but the rest comes from revision.