Interior of St. Peter's and Neoclassicism in the South
by Haley Higingbotham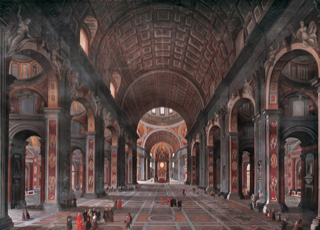 Interior of St. Peter's by the American painter George Cooke is a monumental work that has hung in the University of Georgia's chapel since 1867. As the name suggests, it depicts the nave of St. Peter's Basilica, created during the Renaissance. Cooke's style closely follows the traditions of antiquity, the classical orders and forms of which faded from artistic and architectural trends but were revived by the Grand Tour between the mid-eighteenth century and early nineteenth century. A new style, dubbed neoclassicism, emerged. However, this style, instead of being a complete recreation of Greco-Roman works, used more modern forms with classical inspiration, evidence of which can be seen throughout the antebellum homes of the American South. By tracking Cooke's journey during his own European grand tour as well as the architectural interests of the Alabama industrialist Daniel Pratt, one sees neoclassicism's wide influence. However, the southern homes that Pratt himself designed stand in stark contrast to Cooke's attempt to revive Greco-Roman forms in his painting.
KEYWORDS: history, art history, paintings, public history, and UGA history
---
One of the most iconic buildings on the University of Georgia campus is the chapel. Built in 1832 for $15,000, it was the finest building on campus at the time. During the early years of its construction, students attended daily services within the church.[1] Though the building, meant to resemble a Doric temple, is itself a notable example of neoclassical architecture, the painting that dominates the chapel's stage usually draws the focus of the building's many visitors.
Interior of St. Peter's is a painting by the American artist George Cooke. He started the monumental painting in 1846 but did not finish it until summer 1847.[2] It measures 17 feet by 23.5 feet. Originally, this painting was commissioned by Daniel Pratt, a wealthy industrialist from Alabama, who later presented it to the University of Georgia in 1867 as a gift.[3] Compared to antebellum southern homes and plantations, often described as having classical architecture, the painting shows clear differences. Southern homes do not emulate those architectural forms as clearly as Renaissance buildings such as St. Peter's Basilica.
As the name suggests, the painting depicts the nave of St. Peter's Basilica, located in the Holy See within Rome, Italy. Many artists have painted the interior of the church, the most notable being Giovanni Paolo Panini.[4] A travel guide from 1877 describes St. Peter's as "the largest and most imposing, although not the most beautiful church in the world," while its interior is "overwhelmingly impressive, . . . the effect . . . produced not so much by the vastness of its dimensions, as by the harmony and symmetry of its proportions."[5] Looking at the painting, this description rings true, and one is greeted with a long corridor with sweeping ceilings and mosaics lining the floors and roof. The niches and chapels on either side of the main corridor help to illustrate how truly enormous the space is in person. Cooke even gives a glimpse of the dome that soars over the rest of the already lofty ceiling. Cooke was able to capture the effect of this famous space, in part, because he sketched and analyzed it in person.
When Cooke traveled to Europe, he hoped to further his artistic skills. Growing up, his education was focused extensively on the classics, but he did not receive any formal artistic training.[6] He had previously learned the basics of painting by copying portraits. In 1826, Cooke and his wife left for Europe, where he would remain for six years. Similar to how he reproduced portraits while first learning to paint, there he studied the works of the Old Masters such as Raphael.[7] He primarily stayed in Florence and Rome, though he did spend some time in Paris and copied Théodore Géricault's The Raft of the Medusa at the Louvre. He studied and even copied many famous paintings from the Uffizi Gallery and the Vatican. He also began to paint some original compositions. While visiting St. Peter's to copy Raphael's Transfiguration, he created his first image of the interior of the basilica. This painting was much smaller than the one that hangs in UGA's chapel today; Cooke was able to ship it to America and display it in one of the painting rooms of Chester Harding.[8]
While Cooke's travels to Italy show why he was interested in classical and Renaissance architecture and in neoclassical painting, Daniel Pratt's connection is not so obvious. Raised as a Methodist, Pratt had a scant education but was able to become the "first great manufacturer of Alabama." He worked as a carpenter and architect in the 1820s and implemented classical designs in his works.[9] In 1838, Pratt purchased almost 2,000 acres of land near Montgomery, Alabama, and established the town of Prattville, where he would build mills and bring more industry to the South. After making some profit, he built what he called a neoclassical house overlooking the creek in Prattville.[10]
Besides the house that he built for himself, Pratt also designed eight homes in Milledgeville, Georgia. These homes had within them plaster cornices, medallions, arches, and arched transom lights over the front doors, and the Prattville house mirrored them in many ways.[11] Such neoclassical elements seem to harken back to ancient Greece and Rome. Just as Renaissance artists borrowed forms from antiquity, neoclassicists emulated Greek and Roman cultures, believing them to represent the pinnacle of civilized society.[12] Like much Renaissance architecture, St. Peter's Basilica's design utilized symmetry, harmony, and other explicit classical elements like a pediment, Corinthian columns, and a dome. While Pratt may have considered his home and the homes he built neoclassical, architectural historians refer to his style as the Milledgeville-Federal style. As the name suggests, this is very different from neoclassical or, as architectural historians refer to it, Greek Revival.
Greek Revival was the most popular architectural style in the antebellum South. The name is somewhat of a misnomer since some elements from ancient Rome also appeared in these homes. For some time, the ancient world had begun to have a large impact on art and ideas in the Western world. In 1823, Lord Byron, the famous poet, left England to join in the war of Greek independence. His joining the cause helped to bring attention to Greece and its illustrious past.[13] The Greek war against Turkey also inspired a new sense of nationalism among Americans. Nationalism alongside attention to the modern state of Greece led to an idealization of the ancient Athenians' model of democracy. Americans saw the classical style as representing noble principles such as reason and beauty, and they wanted to echo these elements in their new nation's architecture. The main elements from antiquity that were brought into Greek Revival were columns, porticos with ornamented pediments, architraves, and bracketed cornices.[14]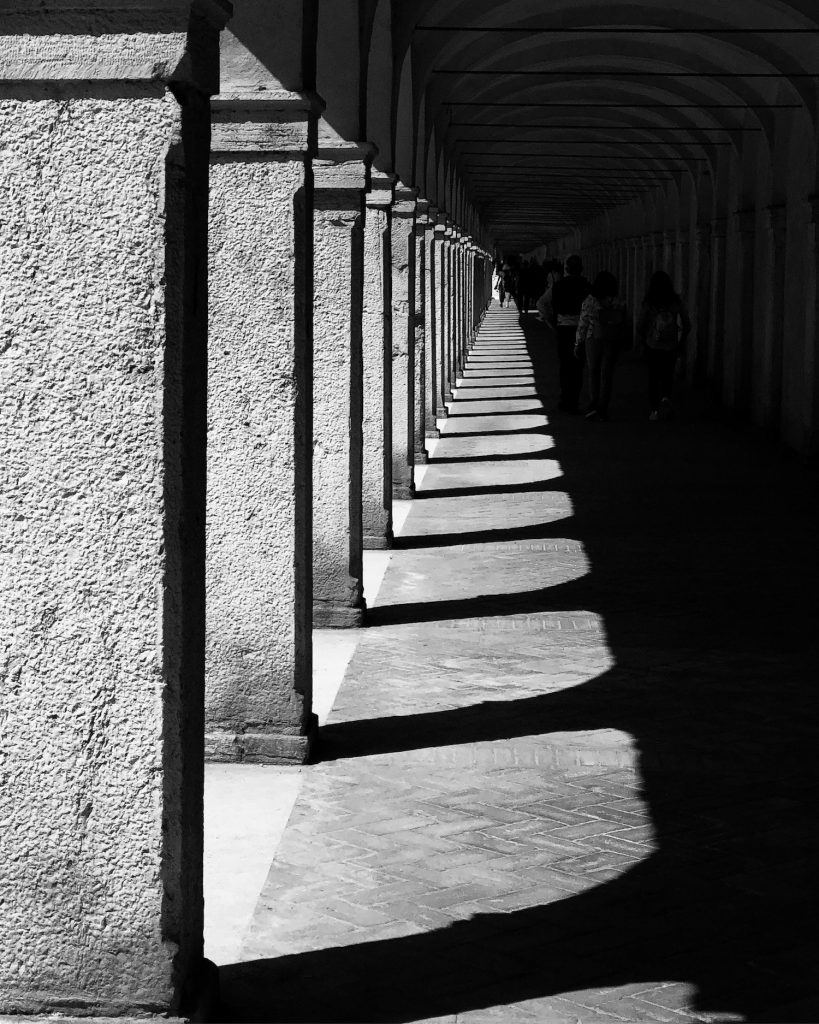 While government buildings followed the classical style very closely, antebellum homes were built as a form of conspicuous consumption on the part of plantation owners. They wanted to use Greek Revival to show the moral principles and rationality of the ancient world, but the architects that designed these houses had to contend with the southern climate and the daily life of those living within. This caused them to look quite different from the Greek and Roman temples their architects attempted to emulate. For example, to contend with the dampness and humidity of the summer months in the South, builders raised the houses off the ground.[15] Another element that was added was the wraparound porch or veranda as a place to catch a breeze in the hot and humid months.[16] These elements may seem normal in the South; however, they are not representative of ancient Greek and Roman aesthetics, which the architects had tried to show in the homes.
Antebellum homes have many elements in them that do echo forms from antiquity, principal among them being large columns with Doric, Ionic, or Corinthian capitals crowning them. Sometimes these columns support a triangular pediment which makes the building seem more like an antique temple. However, such homes are not true to the classical aesthetic when compared to actual buildings from antiquity or even Renaissance structures like St. Peter's Basilica. These classical components can be seen in Cooke's Interior of St. Peter's with the basilica's long barrel vault, coffers in the ceiling, spandrels, mosaics, arches, and dome, all rendered true to life. In contrast, southern antebellum homes were not only influenced by antiquity but also by other contemporaneous styles, such as colonial, Georgian, and Federal, to name a few. Elements from these styles were frequently combined with classical elements to adapt the architecture to the tastes of the builder while also including spaces needed for daily life. While they added comfort, these elements further separated the homes from ancient Greek and Roman architecture. In other words, antebellum homes were inspired by elements of antiquity without fully being neoclassical or Greek Revival in style.
Bibliography
Baedeker, Karl. Italy, Handbook for Travellers. 6th ed. Leipsic: n.p., 1877.
Boney, F. N. A Pictorial History of the University of Georgia. Athens: University of Georgia Press, 1984.
———. A Walking Tour of the University of Georgia. Athens: University of Georgia Press, 1989.
Dendy, Larry B. Through the Arch: An Illustrated Guide to the University of Georgia Campus. Athens: University of Georgia Press, 2013.
Hammond, Ralph.Ante-Bellum Mansions of Alabama. New York: Bonanza Books, 1951.
Headley, J. T. Rambles and Sketches. New York: J. S. Taylor, 1850.
Keyes, Donald D., G. Cooke, Linda Crocker Simmons, Estill Curtis Pennington, and William Nathaniel Banks. George Cooke, 1793–1849. Athens: Georgia Museum of Art, University of Georgia, 1991.
Kleiner, Fred S. Gardner's Art through the Ages: Volume II for the University of Georgia. 14th ed. Edited by Maureen Stedt and Michael Stranz. Boston: Cengage Learning, 2013.
Matrana, Marc R. Southern Splendor: Saving Architectural Treasures of the Old South. Edited by Robin Spencer Lattimore and Michael W. Kitchens. Jackson: University Press of Mississippi, 2018.
Miller, Randall M. The World of Daniel Pratt: Essays on Industry, Politics, Art, Architecture, Reform, and Town-Building in Alabama: From a Symposium Sponsored by the Pratt Celebration, February 19–20, 1999. Montgomery: Black Belt Press, 1999.
Murray, John. A Handbook for Travellers in Central Italy: Including Lucca, Tuscany, Florence, the Marches, Umbria, Part of the Patrimony of St. Peter, and the Island of Sardinia. 5th ed., London: n.p., 1861.
Pratt, Merrill E. Daniel Pratt, Alabama's First Industrialist. New York: Newcomen Society of England, American Branch, 1949.
Seebohm, Caroline. Under Live Oaks: The Last Great Houses of the Old South. New York: Clarkson Potter, 2002.
Taine, Hippolyte. Italy: Rome and Naples, translated by John Durand. New York: H. Holt and Company, 1889.
Notes
[1] F. N. Boney, A Walking Tour of the University of Georgia (Athens: 1989), 13.
[2] Donald D. Keyes, G. Cooke, et. al., George Cooke, 1793-1849 (Athens: 1991), 20.
[3] Boney, A Walking Tour of the University of Georgia, 13.
[4] Randall M. Miller, The World of Daniel Pratt: Essays on Industry, Politics, Art, Architecture, Reform, and Town-Building in Alabama (Montgomery: 1999), 103.
[5] Karl Baedeker, Italy, Handbook for Travellers. 6th ed., (Leipzig: 1877), 282–283.
[6] Keyes, 7.
[7] Miller, 102103.
[8] Keyes, 10–13.
[9] Ibid., 39–40.
[10] Miller, 111.
[11] Marc R. Matrana, Southern Splendor: Saving Architectural Treasures of the Old South, ed. Robin Spencer Lattimore and Michael W. Kitchens (Jackson: 2018), 131–132.
[12] Fred S. Kleiner, Gardner's Art through the Ages: Volume II for the University of Georgia, ed. Maureen Stedt and Michael Stranz (Cengage Learning, 2013), 745.
[13] Ralph Hammond, Ante-Bellum Mansions of Alabama (New York: 1951), 18.
[14] Caroline Seebohm, Under Live Oaks: The Last Great Houses of the Old South (New York: 2002), 289.
[15] Ibid., 16.
[16] Hammond, 23–24.
---
Acknowledgements
I would like to thank Dr. Reason and Matthew for their assistance in researching this paper and editing it.
---
Citation Style: Chicago
---